Healthcare in the time of coronavirus
As the coronavirus (COVID-19) continues to affect more of our neighbors, we want to keep you up to date on many ways Heal can serve your family's healthcare needs.
Talk to a doctor now
Let's talk facts, not fear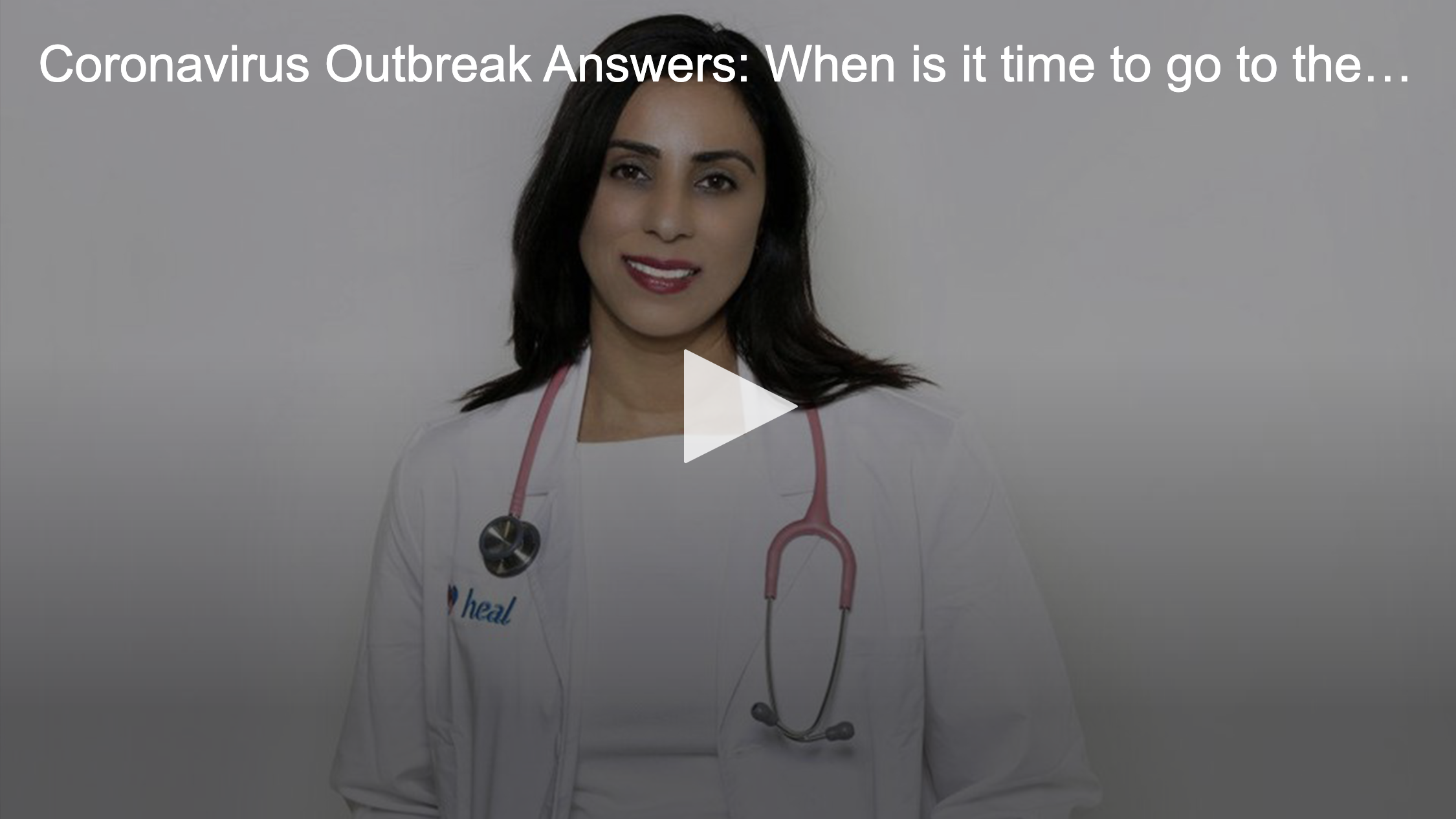 Heal Doctors Chief Medical Officer, Dr Renee Dua on ABC
Updated: March 24th, 2020
Can Heal Doctors test for COVID-19?
As you know, there's a worldwide shortage of tests, so we want to be responsible with the tests as instructed by the CDC, using them for the patients in greatest need. That includes healthcare workers, elderly and patients with weakened immune systems, and people in nursing homes who are at risk of spreading the disease. If you think you may need testing, please book a telemedicine call with your Heal Doctor. Depending on your symptoms and risk factors, we will use the best available test and coordinate with local health authorities for testing as needed.
Where can I get tested for COVID-19?
If you are experiencing acute symptoms such as high fever or shortness of breath, call 911 immediately. If you think you might have COVID-19 and have mild or no symptoms, then book a Heal telemedicine call and enter your symptoms (such as fever or chills, body aches, shortness of breath, cough, or sore throat).
What is a telemedicine screening for COVID-19?
A telemedicine call is a Heal Doctor talking with you by phone or video chat* to help determine your risk level for COVID-19 and arrange for appropriate testing. Read the telemedicine FAQ
* Please note: video calling is only available if you have the Heal iOS or Android app installed on your phone.
What if I need a doctor for a routine medical need and I don't have any symptoms related to COVID-19?
Book a Heal telemedicine call and a Heal doctor will talk with you by phone or video (if you have the Heal iOS or Android app). Heal Doctors can take care of the vast majority of routine healthcare needs by telemedicine. If you still need an in-person house call and if we see patients in your area, we will provide you with a house call. Remember, an overwhelming majority of people who need a doctor don't have COVID-19, and the last thing you should do if you're sick is expose yourself to others in a doctor's office, ER, or urgent care setting. Using Heal is the safest way to get quality healthcare in the privacy of your own home.
What are the symptoms of COVID-19?
The most common symptoms are cough, fever, and shortness of breath. Some patients may also experience sore fatigue, chills, sore throat, body aches, and loss of appetite.
What should I do if I have COVID-19 symptoms?
Book a Heal telemedicine call and a Heal doctor will talk with you by phone or video (if you have the Heal iOS or Android app) to help assess your symptoms and arrange for testing if appropriate.
What is the charge for a telemedicine call?
Telemedicine calls are covered by most insurance plans at no cost or a very low co-pay (typically $5 or less) to members. You would just pay your applicable co-pay. For cash pay users, a Heal telemedicine call is $79.
What happens in a telemedicine call?
A Heal Doctor speaks with you and either provides the care you need, sets-up an in-person house call, or refers you to the emergency room if you are very ill.
What happens if I am identified as at risk for COVID-19?
If you are identified as at risk for COVID-19, your Heal Doctor will provide you with tips to keep you safe and well at home while avoiding exposure to others. Your Heal Doctor will also order any prescriptions, coordinate any necessary testing, and arrange for regular follow-up visits with us to ensure you are getting better and support you along the way. The vast majority of patients with COVID-19 have mild to moderate symptoms that can be safely managed at home. However, if you are very ill and your Heal Doctor believes that you need hospital-level care, they will refer you to a local emergency room.
If I have COVID-19 symptoms, does this mean I definitely have COVID-19?
No. These symptoms can occur because of a common cold, flu, or other health issues. But, they can also be COVID-19. We recommend that you book a telemedicine visit with your Heal Doctor to discuss your specific symptoms and testing options.
What about the new law that makes COVID-19 tests and healthcare free?
Yes, this is happening at a federal and state level. Heal will work with insurance plans to implement this. Sometimes that will mean refunding your co-pay, other times that will mean not charging you at all.
Some people are saying it's all hype – how serious an issue is COVID-19?
COVID-19 is a serious illness that is especially dangerous for people over the age of 60 and those with diabetes, heart disease, or respiratory issues.
Should I be scared?
No, but you should be prepared. The best ways to protect yourself are the simplest – use hand sanitizer or wash your hands thoroughly (for at least 20 seconds) with soap and water as frequently as you can, avoid traveling, and keep at least 6 feet of distance from others.
Where can I get more information?
Does Heal still do house calls during coronavirus (COVID-19)?
For the safety of patients and our medical teams during this pandemic, all new appointments will be booked as telemedicine calls. Telemedicine offers compassionate, 'contact-less' care on your schedule, from the comfort and safety of your home. Book a telemedicine call and talk to a Heal Doctor for all your care needs, from medication refills to mental health, and chronic disease to common colds. If needed and where available (search your zip code), the Heal Doctor will use their discretion to book a house call to visit you at home. For important updates to Heal's house call policy, please visit https://heal.com/updates
"Get a House Call in the Time of COVID-19. Getting care at home... is exactly what health officials want you to do."

Get care from Heal
Get quality healthcare in the safety and comfort of your own home with Heal telemedicine - talk to a Heal Doctor using phone or video chat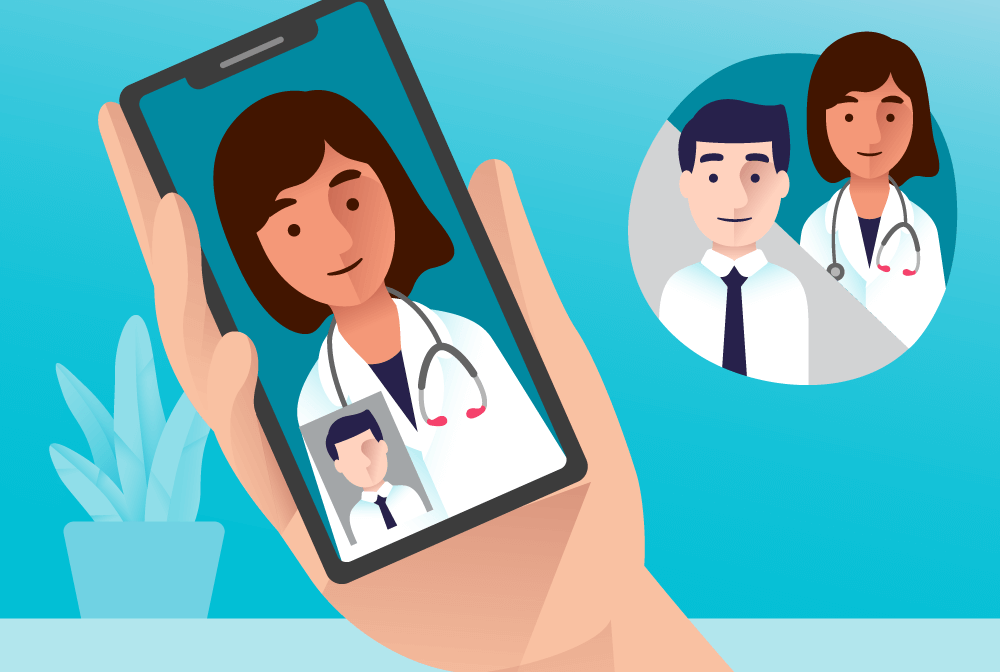 Telemedicine calls for coronavirus COVID-19 risk screening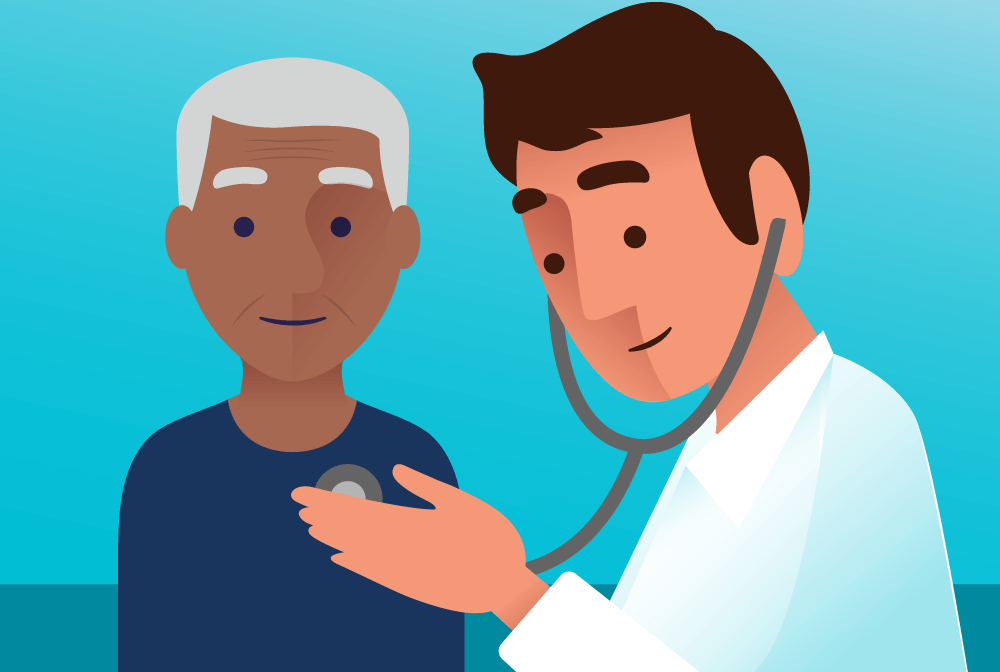 When needed - in-person house calls for all routine healthcare
Talk to a doctor now
More resources
---
Centers for Disease
Control and Prevention
---
World Health Organization
---
Concerned about the coronavirus?